MONTHLY ARTICLES BY MARK SATIN
. . . author of Radical Middle: The Politics We Need Now (Westview Press and Basic Books, 2004), winner of "Outstanding Book Award 2004" from American Political Science Association / Section on Ecological and Transformational Politics; former street activist, former business attorney. See Wikipedia biography HERE.
Dear Viewer, - I will be spending the next part of my life writing a final political book (my sixth) and nursing my failing eyesight. So after 10+ years and 120 articles spanning 1999-2009, Radical Middle Newsletter has come to an end (see goodbye article HERE).
But this website is still vital. Because political change is so slow in this country, most of Radical Middle's articles are as timely now as ever! Here's how I've arranged them for you:
our "Best of Radical Middle" articles are linked below, by topic, and

all 120 of our articles are summarized and linked in chronological order HERE.
Our articles are unusually rich in ideas and information. I hope you'll not only enjoy them, but make good use of them.
We've had OVER 4.6 MILLION ARTICLE VIEWS ("pageviews") through 2013. See stats at the bottom of this page.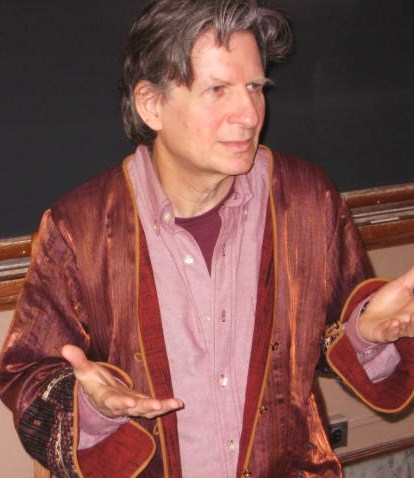 Satin lecturing on "life and political ideologies" at UC-Berkeley, 2010.
BEST OF RADICAL MIDDLE
I. Introduction
Politicians, Pundits, and Activists Are Having a Culture War. The Rest of Us Are Nuanced or Ambivalent and Looking for New Directions
Post-Partisan! The First Uniquely American Political Ideology Is Being Born
Are the Best Conservative Thinkers Becoming Radical Middle?
Where's the Juice? A Review of Halstead and Lind's The Radical Center
II. Economy
Could Common Ground on Capitalism (and Globalization) Be at Hand?
Maybe the Election Will Shame Us Into Sharing Our Wealth
Selling U.S. Products Abroad: Malign, Moral, or a Chance for Mutual Learning?
Art Kleiner's Good Corporate Guys vs. David Yamada's Good Corporate Laws
Second Front in Our War For Democracy: Liberating the U.S. From Oil Dependence
To Balance the Federal Budget, Build a Better Society!
III. Polity
Repairing American Democracy: Changing the Rules Is Not Enough
Mediator-Leaders: The Leadership We Need Now?
What Our Schools Need Now: Great Teachers, Great Teachers, Great Teachers
OK, Congressman Rangel, Let's Bring Back the Draft – But a Better One Than Yours!
Healing First! Time for the U.S. Justice System to Get Less Mechanistic and More Therapeutic
IV. Society
Universal, Preventive, and Cost-Effective Health Care Is Within Our Grasp!
Confronting the Sociopolitical Causes of Psychological Depression: Too Taboo?
Liberal vs. Conservative vs. Holistic Immigration Reform
Economic-Class-Based Affirmative Action: The Elites Loathe It, The People Want It
Rx for Black America: Stop "Therapeutic Alienation" Now!
V. Culture
Re-Inventing American History: When Narratives Collide
From Romantic Nationalists to Thoughtful Cosmopolitans
These Self-Help Books Celebrate Honesty, Connection, and Complexity!
Safety and Love First: The Politics of Children's Literature
Zadie Smith's On Beauty: First Great Radical Middle Political Novel
VI. Global
A. Principles
Coming to Grips with Our Badness
Is "Democracy" What the World Needs Now?
"Ethical Realism": The Foreign Policy We Need Now
Fareed Zakaria's Global Humanism vs. Alanna Hartzok's Earth-Rights Idealism
B. Applications
Tough on Terrorism AND Tough on the Causes of Terrorism: Our Only Hope
Brazil, India, and China: These Are Our Enemies?
Humanitarian Military Intervention: The Peace Movement of the '00s
The One-State Solution for Israel-Palestine Is the Most Visionary AND the Most Sensible
VII. Strategy
Professional Schools, Not Radical Groups, Are Our Social Change Incubators Now
Alienation Forever?: A Critique of David Korten's The Great Turning
Where's the Depth?: A Critique of Thomas Friedman's The World Is Flat
Where's the Mutual Learning?: A Critique of George Lakoff's Don't Think of an Elephant
Where's the Backbone?: A Critique of Paul Hawken's Blessed Unrest
VIII. Groups
Participants Agonize Over (and Draw Lessons From) the Death and Life of the New World Alliance
Resentment and Transcendence at the NAACP Convention
Don Beck's Spiral Dynamics Integral Confab: Political Evolution Now!
Coherent "Radical Centrist" Agenda Emerges at New America Foundation Conference
International Crisis Group: Get Your Solutions Here!
IX. Movement?
Futility, Fury and Hope Outside the Republican National Convention
"Rankism" (the Abuse of Rank) -- Last Big Barrier to a Just and Decent Society?
At Last, a Movement that Would Have Us Listen To and Learn From Each Other
First "Transpartisan" Political Organization Prepares for Liftoff
There Is a Radical Middle in Congress
X. Conclusion
Mushy Middle? No Way! A 12-Point Radical Middle Agenda
"Sometimes I get a dismal feeling that all the magazines have one Group Mind or One Editor. You're an exception, and I'm a grateful reader" – unsolicited note to Mark Satin from Jane Jacobs (1916-2006), author of The Death and Life of Great American Cities
ABOUT RADICAL MIDDLE NEWSLETTER AND BOOK
Radical Middle, edited and largely written by Mark Satin, was an international political newsletter that covered policy issues, conferences, and books in the fields of politics, law, business, and global governance.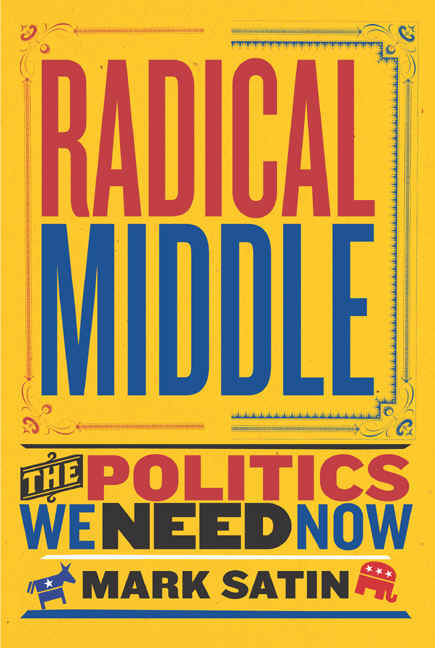 From January 1999 through December 2004, Radical Middle was an old fashioned printed newsletter. From January 2005 through June 2009, it was online only. Rest assured that this Web site is less primitive than it looks -- it was designed to resemble the printed newsletter!
We published original articles each month. Our focus was on holistic, sustainable efforts that transcended politics-as-usual AND bitter alienation; our goal, one economically, culturally, racially, and politically integrated world.
Radical Middle's articles from the first five years were transmuted into an award-winning book published in 2004 by Westview Press and Basic Books (see cover image close to this paragraph). You can get a good sense of the book by clicking on the special BOOK PAGE we created for you.
"Thank you for your very real ministry" -- unsolicited note to Mark Satin from M. Scott Peck (1936-2005), author of The Road Less Traveled
ARTICLES BY JOHN AVLON
. . . author of Independent Nation: How the Vital Center Is Changing American Politics (2004) and advisor to Radical Middle Newsletter; b. 1973; worked on Bill Clinton's re-election campaign, then worked for Mayor Giuliani from 1997-2001 and 2006-08
To view our archive of articles by John Avlon, click HERE.
"It is admittedly far easier to divide than to unite. But while dividers may win battles, uniters win wars" -- John Avlon, Independent Nation (2004)
AWARDS
10
"Top 10 e-newsletters for an emerging culture"
-- iShift, monthly e-zine of the Institute of Noetic Sciences, August 2006


RADICAL MIDDLE's predecessor newsletter, New Options, won Utne Reader's first "Alternative Press Award for General Excellence: Best Publication from 10,000 to 30,000 Circulation." It also made the Washington Post's chart of 10 periodicals exemplifying "The Ideology Shuffle."
"Over the years, Satin has unabashedly challenged tired thinking on any part of the political spectrum" -- Helen Cordes in the Utne Reader
STAT SHEET
. . . or, how a Web site gets built via word of mouth (we do no advertising):
Year 2000 25,521 article views (aka "pageviews")
Year 2001 93,267
Year 2002 127,539
Year 2003 181,262
Year 2004 193,719
Year 2005 431,285
Year 2006 518,862
Year 2007 528,761 article views, avg. 1.84 views & 3 mins. 39 secs. per session
Year 2008 467,689 article views, avg. 2.12 views & 6 mins. 02 secs. per session
Year 2009 443,439 article views, avg. 2.07 views & 7 mins. 53 secs. per session
Year 2010 462,918 article views, avg. 2.01 views & 9 mins. 26 secs. per session
Year 2011 408,123 article views, avg. 2.05 views & 6 mins. 59 secs. per session
Year 2012 384,784 article views, avg. 2.04 views & 4 mins. 44 secs. per session
Year 2013 370,943 article views, avg. 2.15 views & 5 mins. 00 secs. per session
Total through 2013 4,638,472 article views
[Stats since 2006 via Urchin Software Corp.]
"How much can you synthesize? How much do you dare to take in?" -- Mark Satin, New Options for America (1991)