"If there were a Nobel Prize for thinking outside the box,
Mark Satin would be so honored."
– Amitai Etzioni, author, From Empire to Community
Radical Middle:

The Politics We Need Now
The Book by Mark Satin
Dear Viewer,
Although my book Radical Middle (Westview Press and Basic Books) was published in 2004, it is more relevant now than ever.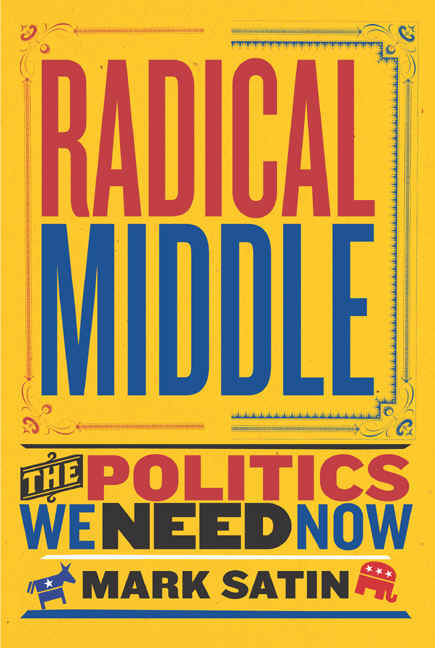 Many books that purport to describe a "new" politics are really just rehashes of liberal, conservative, or socialist politics. Radical Middle is different:
– It argues that, in order to get beyond our present stalemate, we need to have the imagination (and moral courage!) to listen to and learn from E-V-E-R-Y-O-N-E';
– It shows how we might do that in 12 key policy areas, from jobs to schooling to globalization'
– It throws a spotlight on people and groups that are working for "win-win" solutions today
Many seeds for Radical Middle's overall perspective were planted by my award-winning Washington, D.C.-based international political newsletter, New Options (1984-1992), which was often referred to as "post-liberal" or "post-socialist" in orientation (see HERE). Many of Radical Middle's specific policy ideas were floated in my Radical Middle Newsletter (1999-2009) – and were refined though dialogue with readers FROM every walk of life.
The result of this 20-year journey is a book that brings special strengths to the attempt to create an inclusive new politics:
– It is a popularization. It should be accessible, even enjoyable, to any caring person;
– It is the first truly comprehensive introduction to the radical middle political perspective, showing how domestic, economic, human-potential, and global concerns can all be addressed under the rubric of four "Key Values";
– It is the first introduction to the radical middle political movement, covering everything from doing "good work" in the professins, to collaborative approaches to community organizng, to radical middle approaches to national political reform. Over 50 organizastions are mentioned;
– It is often quite personal in content and tone – as it should be, since radical middle politics comes from the heart as well as the head.
If you'd like to learn more about the book, I've created eight special sections for you below. Enjoy!
All best, – Mark Satin
THE EIGHT SECTIONS BELOW
I. Mark Satin's Preface to the Book

II. Table of Contents of the Book

III. Further Excerpts from the Book

IV. American Political Science Association Award

V. Fifty Public and Radio Appearances Sparked by the Book

VI. Twenty Pre-Publication Blurbs

VII. Thirty Press Clips and Blog Snips

VIII. For More Information
I. MARK SATIN'S PREFACE TO THE BOOK
See HERE
II. TABLE OF CONTENTS OF THE BOOK
See HERE.
III. FURTHER EXCERPTS FROM THE BOOK
Basic Books was kind enough to permit Anazon.com to reproduce selected passages from the book. See HERE.
IV. APSA AWARD
In September 2004, Radical Middle received the "Best Book Award" fot 2004 from the Section on Ecological and Transformational Politics (Section #26) of the American Political Science Asociation.
According to that Section's APSA.net entry, "The Best Book Award recognizes a book of extraordinary merit in the field of transformational politics, in particular, the politics and processes of deliberate efforts for change on behalf of ideas that are decentralist, ecological, and humanistic, published in the preceding two years."
V. FIFTY PUBLIC AND RADIO APPEARANCES SPARKED BY THE BOOK
See HERE
VI. TWENTY PRE-PUBLICATION BLURBS
Twenty positive comments (aka blurbs) were collected by my publisher and me for use on the dust jacket or front pages of Radical Middle, or in press releases for the book. Thanks so much!!! to everyone who contributed their kind words:
Walter Truett Anderson, author, All Connected Now: Life in the First Global Civilization
Sam Daley-Harris, Director, Microcredit Summit Campaign
Leonard Duhl, co-founder, World Health Organization's Healthy Cities Project
Esther Dyson, Chair, EDventure Holdings [global information services]
Amitai Etzioni, founder, The Communitarian Network
James Fallows, National Correspondent, The Atlantic Monthly
Mike Feinstein, co-founder, Green Party of California
Richard Florida, author, The Rise of the Creative Class
Christopher Gates, President, National Civic League
Alisa Gravitz, Executive Director, Co-op America [now Green America
Ted Halstead, co-founder and President, New America Foundation
Kevin Kelly, co-founder and Editor, Wired magazine
Jane Mansbridge, Professor, Kennedy School of Government, Harvard University
John Marks, co-founder and President, Search for Common Ground
John McClaughry, former Senior Policy Advisor, Reagan White House
Graham Molitor, former chief lobbyist, General Mills
Victor Navasky, Editorial Director and Publisher, The Nation magazine
Jay Ogilvy, co-founder, Global Business Network
Charles Peters, Founding Editor, The Washington Monthly
Paul Ray, co-author, The Cultural Creatives: How 50 Million People Are Changing the World
You can see their unedited (by me) blurbs HERE. Just scroll beyond the "Table of Contents" there.
VII. THIRTY PRESS CLIPS AND BLOG SNIPS
Picture below: Podium and books await author at the late, great Cody's Bookstore on Telegraph Avenue in Berkeley.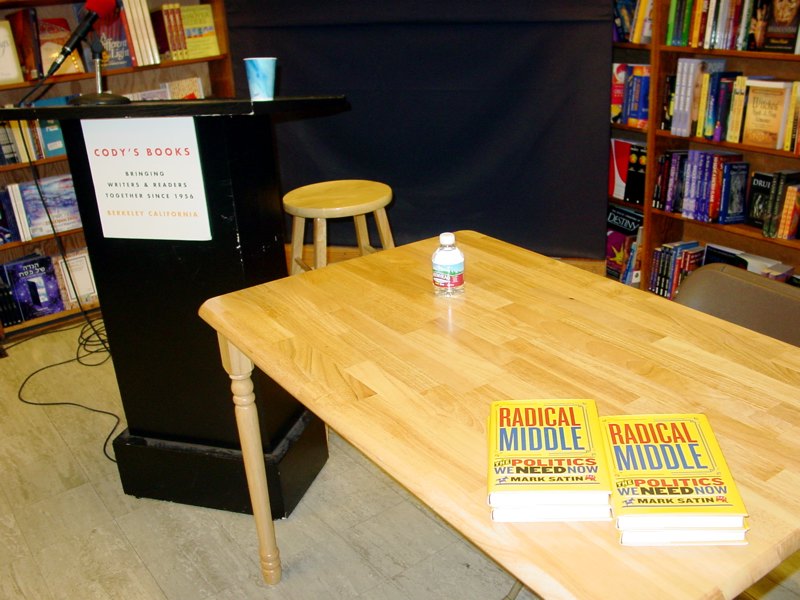 "Mark Satin has spent his life advocating for peace and social change. While his values have remained constant, his strategies have evolved with life experience[, and now] he has helped lay the groundwork for a radical centrism that may be finally taking hold in the U.S."
– Charles Adler, Earth Action Index website, February 22, 2004
"[T]he policy proposals cataloged here don't fii neatly into the standard left / right model. ... The most provocaive ideas combine a leftist concern for the commonwealth with a conservative instinct for individual responsibility and self-reliance. ... Despite the occasional lapse, this book is moderate in tone and intelligently reasoned – shockingly so."
– Gadi Dechter (later appointed to Obama's Commerce Dept.), Baltimore City Paper, February 25, 2004
"Here's another kind of public policy, not learned from Washington or Jefferson, but in the mode of Ben Franklin. ... [M]akes a lot more sense than ... the many braying pundits at the edges of the national parties."
– Kirkus Reviews, March 1, 2004
"Satin, publisher of the Radical Middle Newsletter, ... aims to achieve great public purposes without aggrandizing government."
– Publishers Weekly, March 1, 2004
"[O]ne of the most refreshing political books I've ever encountered. ... [M]ust-reading for those who are trying to find a ray of sanity in our present political climate."
– Larry Cox, Tucson Citizen, March 18, 2004
"[V]ery interesting and very provocative."
– Michael Goldman and Tom Maroney, Simply Put Show, Bloomberg Radio Network, March 7, 2004
"People are not going to listen, right away, to super-centrist radio, like Mark Satin with his book Radical Middle. That's something that we neeed to get to down the road."
– Matthew Felling (of the Center for Media and Public Affairs), CNN Saturday, March 27, 2004
"Passionate, popularized, and personalized, with frequent asides about Satin's [activist] background. ... [A] fresh and often original voice."
– Michael Marien, Future Survey magazine, April 2004
"Satin now believes ... both left and right have legitimate concerns, [and we must create] a new synthesis."
– Rick Heller, Centerfield weblog, April 14, 2004
"Mark Satin sees ... radical middle politics as an innovation that's ideally suited to 21st century America."
– Nancy Beardsley, Voice of America radio, April 15, 2004
"Satin offers a 'radical middle' path with concrete policy suggestions – including universal health care that's not government-run, [and] affirmative action for the economically disadvntaged of every race."
– Marjorie Kelly, Business Ethics magazine, Spring 2004
"Like his hero Ben Franklin, [Satin] uses his ... skills to shape the emerging consciousness of a nascent movement."
– Ernest Prabhakar, Radical Centrism weblog, April 25, 2004
"This book is intended to inform and energize [and includes many] sugestions to help readers implement Radical Middle values in society."
– Jill Ortner, Library Journal, May 1, 2004
"Satin firmly believes that the current system can't lead to the moderate majority he wants. The most 'radical' thing about Mark Satin's Radical Middle is the extraordinary depth of the author's belief that identifying solutions to America's problems depends on spurning conventional party politics."
– Ed Kilgore (policy director, Democratic Leadership Council), The Washington Monthly, June 2004
"Mark Satin's irritating Radical Middle is a timely clue to what gave liberalism a bad name. ... [He] perceive[s] obvious solutions to almost everything. ..."
– Charles R. Morris, Commonweal magazine, June 4, 2004
"Mark Satin, a one-time radcal leftist[, says] there is a middle ground, composed of people who want rerasonable change, rejecting left and right but combining what is best from both ends of the spectrum."
– Robert Tanner, Associated Press wire service feature story, July 3, 2004
"[Unlike] Ralph Nader ... , Mark Satin says that the problem is that there are great differences between the two parties. ... Neither party 'speaks for the American people as a whole,' he says."
– FOXNews.com website, July 5, 2004
"In American politics, we've had the silent majority, the far left, the far right, ... and now the radical middle. ... [Satin] aims to educate the American public about this new movement."
– Tony Cox, The Tavis Smiley Show, NPR, July 9, 2004
"[O]ne of the most important reads of the last five years ... and it's easy to read!"
– Tony Trupiano, The Tony Trupiano Show, Michigan Talk Radio Network, July 21, 2004
"Mark Satin gives example after example in his book [of] groups that are working to make a difference by shedding the political, ideological divide that endangers us all."
– Kathleen O'Connor (health care activist), CodeBlueNow! weblog, August 3, 2004
"Satin draws inspiration from nonpolitical realms of society, where people are blending what works from various orthodoxies. He points to developments like inegrative medicine, ... socially responsible business, ... and judges' increasing use of psychology, economics, and even literature in crafting legal opinions."
– Leif Utne, Utne Reader magazine, September-October 2004
"Instead of coming off as apolitical, [Satin] comes of as intensely political and radical, but not far lefr or far right."
– Kirby Urner, Grain of Sand weblog, October 22, 2004
"Radical Middle ... has been hailed as this movement's manifesto. ... I got as far as page six before I began to suspect that what was coming was mostly a collection of reclad socialist ideas."
– Sunni Maravillosa, TownHall.com website, November 2004
"You have a very fascinting and a very rich background. ... I've been reading your book and I find it right on point on so many issues."
– Shelton Walden, Walden's Pond Show, WBAI-FM (Pacifica Radio), New York NY, November 28, 2004
"Mark Satin ... recommends a third wave of books signalling the coming of a third great political worldview."
– Margo Kingston, Sydney Morning Herald (Australia), December 3, 2004
"Satin argues that if you tune out the activists and politicians who seem increasingly drawn to wildly partisan half-truths, and simply talk with ordinary people, you'll see that Americans ... hunger for 'a new kind of politics'."
– Robert Olson, The Futurist magazine, January-February 2005
"[Satin] is one of the most visible characters in this new movement but his enthusiasm, what he calls 'idealism wuithout illusions,' is infectuous and genuine."
– Jay Dean, The Radical Centrist weblog, February 23, 2005
"Mark Satin is ... dedicated to listening to and synthesizing the ideas from both the left and the right while avoiding 'the mushy middle,' where there is no direction or principle. Satin gives us a blueprint for [doing so, and] ... a plan for action."
– The Beacon magazine (Britain), March-April 2005
"Yesterday evening, The Yellow Line had a great meeting and converation with John Avlon, author of Independent Nation, and Mark Satin, author of Radical Middle. ... These two centrist writers / leaders are incredibly committed to advancing the cause of centrism. ..."
– Alan Stewart Carl, The Yellow Line weblog, April 27, 2005
"Rather than become a conservative, [Satin] became a centrist but one of a certain kind ... a caring person who, unlike many, would prefer to rethink all of his political commitments from the ground up, [rather] than succumb to disillusionment or remain rigidly attached to beliefs discredited by his own experience."
– Robert F. Bauer (partner at Perkins Coie law firm in Seattle), Soft Money Hard Law weblog, March 14, 2005
[ENCORE!]
"[T]he notion of a politics of the 'radical middle' [has been] articulated most persuasively by Michael Lind and Mark Satin."
– Leonard J. Santow and Mark E. Santow, Social Security and the Middle-Class Squeeze (book), Praeger, 2005
"Satin ... attempt[s] to lift politics to a higher level of discourse. His concise commentary [is] mixed with several parts idealism, a good dose of realism, a touch of spirituality, and always heaps of common sense."
– Carter Phipps, EnlightenNext: The Magazine for Evolutionaries, June-August 2005
"[T]he new ideas, political groups, activists and thinkers who make up ... a movement that goes beyond traditional left and right platitudes has been very well explored in Mark Satin's book Radical Middle."
– Art Levine, The Huffington Post, July 16, 2006
"[C]orporate law wasn't for Satin. He returned to social activism as a 'radical centrist,' writing a well-received book, Radical Middle, in 2004.
– Lynda Hurst, Toronto Star, August 24, 2008
"Mark Satin, author of Radical Middle, sees [radical centrism] as a new, and original, political ideology."
– Sean Golsalves, ComminDreams.org website, November 18, 2008
"Mark Satin is a noted political writer and lawyer, a onetime 60s activist whose worldview now resides in what he calls the 'radical middle.' ... Although I identify myself as a liberal, Mark's ideas have had a strong impact on me."
– David Yamada (law professor and anti-bullying activist), Minding the Workplace website, April 23, 2012
VIII. FOR MORE INFORMATION
For the Wikipedia biography of Satin, now a "Featured Article" there, go HERE.
For Satin's Amazon Author Page linking to all six of his books, go HERE.
If you'd like to do original research on Radical Middle book (2004) and newsletter (1999 – 2009), the Joseph A. Labadie Collection, at the University of Michigan's Hatcher Library, houses the Mark Satin Papers , and among them you can find an entire section devoted to Radical Middle materials. There are sub-sections consisting of 25 documents Satin generated to promote the newsletter, 50 entire press or blog reviews of the book or newsletter, 100 letters to and from Satin from 1998 – 2009, and Satin's personal memoir of his Radical Middle years.
Satin keeps a copy of the Labadie Collection's Mark Satin Papers in his personal possession in Oakland, CA. If you would like to access them there, write him at msatin (at) mindspring (dot) com. Please be brief, use 14-point type (because of his eye condition), and put "Research" in the subject line.