"[New Options] rocks the boat, it kicks sacred cows, it's not stuffed in any pigeonhole. And it will make you think."
– Dave Foreman, Earth First! Journal, May 1, 1987
New Options Newsletter:
Transformational, Post-liberal, Prophetic
by Mark Satin
Welcome to my Washington, D.C.-based international political newsletter, New Options, once often praised or derided as "Washington's idealistic political newsletter."
During its nine-year existence, 1984 – 1992, Newv Options was the go-to political publication for those of us who were seeking creative, holistic, and visionary alternatives to liberal and socialist policies. In 1989 it won Utne Reader's first-ever "Alternative Press Award for General Excellence: Best Publication from 10,000 to 30,000 Circulation."
In 1990 The Washington Post put it on its chart of people and periodicals exemplifying "The Ideology Shuffle."
But I haven't posted this page for history's sake alone. As you'll see, many of New Options's articles and perspectives are more relevant now than ever.
TABLE OF CONTENTS
I. Twenty-five Complete Issues

II. A Selection of Articles
III. Letter from Mark Satin from the Year 2014
IV. Twenty-five Media Mentions
V. Board of 100 New Options Advisors
VI. New Options's Longest-Serving Part-Time Paid Employees
VII. For More Information
I. TWENTY-FIVE COMPLETE ISSUES
Just click on the blue letters below and the issues will appear.
Most issues include cover stories (pp. 1-2), reports on organizations (pp. 3-4), letters from readers (pp. 5-6), and book reviews (pp. 7-8).
To make these precisely done PDFs (electronic text images) come up reasonably quickly for you, I had them done in black and white. I am sad you will never see the mastheads and headlines in their original colors of blood red, forest green, earth brown, and midnight blue (one color per issue). - M.S.
///////////////
ISSUE 24. "Twenty-eight Ways of Looking at Terrorism" – special issue emphasizing the need to listen, deeply. Includes letters responding to this article from Issue #27.
ISSUE 28. "Alternative to Terrorism – Siding With the World's Poor"; reviews of the books Beyond Power and The Cult of Information
ISSUE 29. "We Can Redistribute Income Without Taxes or Tears" (universal stock ownership plan); transformational Congressional candidate; review of The Rapids of Change
ISSUE 36. "National Holistic Health Care Program: Too Sensible?"; National Coalition for Alternative Community Schools;10 best movement magazines?
ISSUE 41. "Three Subtle Ways to Shrink Our Big Corporations"; loving urban black kids to life; critique of Our Common Future (the Brundtland Report)
ISSUE 42. "Rearing a Gentler People: The Issue Everybody Avoids"; Third World NGOs speak out; Theobald wins our Book Award
ISSUE 43. "The Stock Market Crash Was a Good Thing"; first-hand report on "Two Conferences, One Generation" (demonstrating it's time we got a handle on power and innocence)
ISSUE 44. "Economic Growth Is Not the Answer"; five groups "visioning our way out of here"; review of Passionate Politics
ISSUE 45. "When 'The People' Is No Longer Enuff" (i.e., why they're often not with us); Equity Institute; review of Global Mind Change
ISSUE 46. "Rebuilding America – the Old-Fashioned Way" (community banking); Transforming Education; reviews of early books by Korten and Starhawk
ISSUE 47. "Pat Robertson Was Onto Something Big"; first-hand report on the Soviet-American Citizens' Summit conference; review of Economics as if the Earth Really Matters
ISSUE 48. "To Balance the Budget, Build a Sustainable Society"; Social Movement Empowerment Project and Blueprint 2000
ISSUE 50. "Shifting the Framework from 'Growth' to 'Health'"; first-hand report on The Other Economic Summit conference; surviving our "10,000th subscriber" party
ISSUE 51. "The Democrats Won't Save Us" (first-hand report on their 1988 national convention); concocting alternatives to the GNP; Worldwatch wins our Book Award
[N.b.: For my first-hand report on the goings-on outside the 2000 Republican national convention, see HERE.]
ISSUE 53: "Don't Let the Election Get You Down" (presenting our "shadow cabinet"!); first-hand reports on two decentralist conferences; review of The Dream of the Earth
ISSUE 54. "Breaking the Hold of Television Advertising"; first-hand report on the national SANE/Freeze conference; review of Global Politics in the Human Interest
ISSUE 56. "Affordable Housing: Laying the Groundwork" (neo-Henry-Georgist approaches); Nuclear Free America; review of The Moral Crisis of American Pacifism
ISSUE 58. "Out of Congress' League: Building Human-Scale Community"' first-hand report on the Fellowship for Intentional Community conference; summer events
ISSUE 59. "Our Schools Need Imagination More Than They Need Money"; reviews of Rediscovering America's Values and Motre Like Us
ISSUE 62. "Drugs Are Not the Enemy"; reviews of The Conquest of War and Refusing to Be a Man
ISSUE 64. "The 1980s Were Better Than We Thought" – special issue on the rise of the caring individual
ISSUE 66. "It's Overdue! – An Income Tax That's Simple and Fair"; guest column by Willis Harman ("From Production to Learning"); review of Envisioning a Sustainable Society
ISSUE 67. "We Have Got to Start Controlling Our Technology"; Self-Esteem Task Force; review of The Politics of Partition
ISSUE 68. "Multiculturalism Will Make Us Whole" – special issue on our next great social movement
ISSUE 70. "You Don't Have to Be a Baby to Cry" – first-hand report on the 1990 national Green gathering. Bundled with Issue #72, consisting entirely of letters on that article.
[N.b.: Our first-hand reports on each of the first three national Green gatherings can be found HERE.]
ISSUE 71. "Some of Our Daughters, Some of Our Lovers" – first-hand report on Washington's street prostitutes. Bundled with Issue #73, consisting entirely of letters on that article.
II. A SELECTION OF ARTICLES
Go HERE.
This selection of my articles was published by The Press at California State University, Fresno, in 1991. I thank them profusely – especially editor Carla Millar and Dean Vida Samiian – for agreeing ti make New Options for America at least partially searchable at Amazon.com, more than two decades after its original pub. date.
Fyi, 11 articles in the book are not reproduced in the issues linked above:
Chapter 3 – "Last Chance Saloon"

Chapter 4 – "Buy Our Way to Freedom"

Chapter 5 – "Promoting Self-Esteem: Political Priority #1?"

Chapter 6 – "Should We Protect Jobs – or Redefine Work?"

Chapter 7 – "Small, Organic Farms Can Solve the Farm Crisis"

Chapter 12 – "Bigger Roads – or Trolleys, Bikes and Urban Redesign?"

Chapter 16 – "How to Do Good in the World"

Chapter 18 – "Reforming the U.N."

Chapter 22 – "The New Age Comes to Congress"

Chapter 23 – "Four Groups Launching That Second Experiment"

Chapter 24 – "Win Every 'Battle' – or Change the Discourse?"
"This collection of articles from Mark Satin's well-respected political newsletter New Options looks at some of the ideas proposed and organizations spawned by participants in what he calls the Second American Experiment. These individuals believe that the values which guided the First American Experiment – economic growth, the welfare state, and policing the world – are no longer tenable (or were unwise to begin with). Rather, the Second Experimentrers seek a siociety that encourages human growth and environmental sustainability. decentralism and self-reliance, and global responsibility."
– Jeff Cornish, The Futurist, publication of the World Future Society, September-October 1991
"Mark Satin, author of New Options for America, ... [says we] are beginning to move beyond assumptions that have limited our conception of what is possible. Instead of seeking new answers for old questions, we are asking new questions."
– Mark Woodhouse, Paradign Wars, North Atlantic Books, 1996
III. LETTER FROM MARK SATIN FROM THE YEAR 2014
Dear Viewer,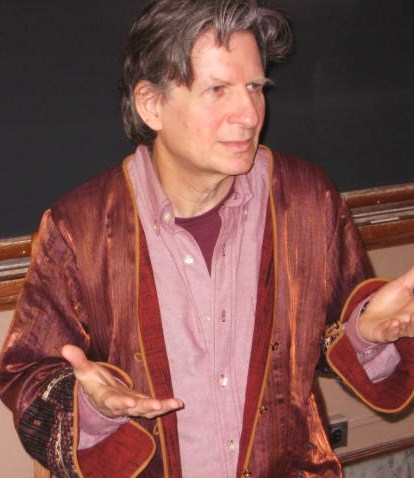 Today, many print and web publications are trying to help us see beyond the shoals of liberalism, conservatism, and socialism. But when I started publishing New Options, 30 years ago this year, it was alone and I was embattled, receiving disparaging letters and phone calls on a regular basis from those who felt my aggressively idealistic and future-focused effort would do the social change movenment more harm than good. (It is hard to remember how much clout even one small but assiduously researched and good-looking print publication could wield, in those pre-Internet days.)
Within a few years, I built New Options up from scratch into the second-largest independent political newsleteer in the U.S. (Wahington's great direct-mail maestro, Roger Craver, played a key role here, as an unpaid coach). I was essentially penniless, but I managed to raise $91,000 for the startup – over $200,000 in today's dollars – from 517 people who'd heard me speak on my book New Age Politics: Healing Self and Society (see HERE), or who'd been involved in a poltical organization I'd co-founded, the New World Alliance (see HERE).
In its day you could find New Options mentioned everyhere, from New Age Journal (September 1984) to The Washington Post (April 1, 1990), from Frances Moore Lappe's edgy Diet for a Small Planet, Ballantine, 1991 edition, to Peter Schwartz's magisterial The Art of the Long View, Doubleday, 1991 edition. (For 25 "media mentions" spanning 1984 – 1993, see Section IV below.) The advisory board, which reflected the capaciousness of the post-liberal universe c. 1990, included urban theorist Jane Jacobs, ecologist Lester Brown, feminist Robin Morgan, futurist John Naisbitt, clean-energy expert Amory Lovins, spiritual teacher Starhawk, German Green parlianentarian Petra Kelly, Reagan White House advisor John McClaughry, and all-purpose gadflies Hazel Henderson and Jeremy Rifkin. (See Section V below.)
Over time, I developed an informal and unusually personal writing style for New Options. (See especially Issues #43 ((p. 3)), 51, 64, 70, and 71 above.). Even some book reviews were written as letters to the author. (See under Issues #45, 53, 54, 66, and 67 above.) I wanted to demonstrate that transformational politics comes from the heart as well as the head.
Although New Options's casual and personal style may have made for easy reading, it is not easy to do well, requiring even more research and rewriting than is ordinarily done, and it sometimes rubbed my more fragile subjects the wrong way. I was deeply moved when, after I ended New Options, three superb editors – Robert Marquand at The Christian Science Monitor, James Weinstein at In These Times, and Victor Navasky at The Nation – all asked me to write for them.
Working on New Options was a labor of love for me, all 80 hours a week of it, and I loved my readers too. (In those days, subscribers called you up a lot ... no e-mail.) They were all over the map about me and my views, but were always genuine and never dull; see the letters pages on pp. 5-6 of the individual issues above.
I have never experienced such joy and tenderness as I did at New Options, and in my best articles you will feel that tone coming through. In the years since then I've been assaulted by a street gang, worked as a lawyer, dealt with cancer and diabetic retiniopathy, and written much more pragmaticaly about our world. I may be wiser and more analytic now, but that tone is gone. (Except for maybe HERE.) They say that the aging Jack Kerouac used to look at a picture of himself from age 25 and smile. Whenever I read New Options and come upon that tone, I can't help smiling in what I suspect is the exact same way.
Yours, – Mark Satin
IV. TWENTY-FIVE MEDIA MENTIONS
A. Overviews
"The April, 1988 issue of New Options pushes the novel idea that 'Pat Robertson was onto something big' in its lead article – happily citing his repeated call for Americans to [come up with a] set of 'shared values'. [See Issue #47 above. – M.S.] ... Typically inane fare for this little (8 pp.) cotton-candy political review. ... Exudes a superficial, yet self-congratulatory, middle-class American optimism on every page. Subscriptions are an outrageous $25 / year."
– Jason McQuinn, Anarchy: A Journal of Desire Armed, Summer 1988
"Mark Satin publishes a highly influential newsleter, New Options, that tracks transformational social change, while avoiding the usual dogmas of the left, the new age, and the fading '60s. His monthly is on the reading list of many of the folks interviewed [for this 20th Anniversary Issue]."
– Kevin Kelly, Whole Earth Review, originally Co-Evolution Quarterly, Winter 1988-89
"New Options is one of the hottest political newsletters in Washington. ... [It] has gotten a fair amount of attention, and perhaps even some influence, because it self-consciously styles itself 'posty-liberal.'"
– George Weigel, American Purpose, periodical of The James Madison Foundation, March 1989
"In 1967, Mark Satin fled the United States for Canada to avoid the draft. Now 37, ... he's the editor of the Washington-based New Options newsletter, which he describes as 'post-liberal, post-conservative and post-socialist.' ... [He says,] 'There is in the land the makings of an ideology that will carry us far beyond where we are today.'"
– Bill Thomas, Baltimore Sun, April 17, 1984
"Satin dares you to read his [six]-year-old monthly publication: It 'might just make you care about politics again.' Calling his ideas 'post-liberal, post-conservative, and post-socialist,' Sain, 42, aims for 'a whole new approach' ro politics. His creed: Left and right are two sides of a coin that has lost its value. Both Marxists and capitalists spend too much time fretting over GNP, and ignoring spiritual needs."
– Jeff Rosenberg, "Mark's Ism," Washington City Paper, March 17-23, 1989
"New Options has been called 'the most intriguing political newsletter in Washington' (by Art Levine of The Washington Monthly). It investigates new ideas and approaches that go beyond those of the traditional left and right."
– Robert Theobald, The Rapids of Change, Knowledge Systems Inc., 1987
"New Options consistently reviews, discusses, questions, and evaluates the issues that are on the forefront (nd often frontier) of progressive thought and action. ... It helps me think through the most difficult issues that confront our society, introduces me to individuals and organizations that are involved in truly remarkable pursuits, and reviews almost every (nonfiction) book I'd consider buying."
– Jeffrey Hollender, How To Make the Wirld a Better Place, Morrow, 1990
B. Right, Left, "New Age," or New Center?
"[Satin's] coverage of the developments within [the alternative] movement is informative and provocative. He reviews books and organizations with a critical eye, and he is not afraid to take controversial positions, which seem to provoke a substantial and spirited response from his readers. ... [However,] I'm concerned by Satin's outspoken anti-Marxism and eagerness to dissociate himself from any part of the traditional left."
– F.L.S., RAIN Magazine: Resources for Appropriate Technology, November-December 1984
"New Options believes it is defining [the vital] center. ... [But] New Options's new option turns out, when one gets down to cases, to be a rather geriatric option. The same tired [leftist] product has been repackaged ... in the soft pastels of personalist psychology rather than the primary colors (among them, red) of Herbert Marcuse."
– George Weigel, "No Options," American Purpose, periodical of The James Madison Foundation, March 1989
"The themes of New Age politics were first articulated in the late 1970s by Mark Satin [after] it dawned on him that 'the ideas and energies from the various "fringe" movements – feminist, ecological, spiritual, human potential and the rest – were beginning to come together in a new way.'... Still seeking that synthesis, Satin publishes the Washington-based newsletter New Options, which has criticized both the Sandinistas and Reagan's policy in Central America while searching for a 'different' ground from pro-life and pro-choice forces on the abortion issue."
– Harvey Wasserman, "The Politics of Transcendence," The Nation, August 31, 1985
"Major New Age strategists [Marilyn] Ferguson, Barbara Marx Hubbard, Mark Satin (rhymes with Latin), and others promote a unified world order and planetary unity while at the same time favoring decentralized civil government – a difficult balancing act. ... Satin is editor of a slick monthly political newsletter called New Options. ... Declaring that New Options regularly covers the activities of 200 'innovative national groups,' Satin boasts an insider's touch: 'We know who the "appropriate technology" sympathizers are at the World Bank. Which foreign service officers are globally responsible. ..."
– Russell Chandler, Understanding the New Age, Zondervan Publishing House, 1993
"[T]he real political creativity of our generation is focused in the struggle to move our most visionary ideas in from the fringe toward the practical political center. One of the best places to watch it unfold – and to take part – is in the pages of New Options ... New Options suggests that the New Age / New Left has to continue to evolve into the 'New Center' – or fail, for real this time, to change the world."
– Annie Gottlieb, Do You Believe in Magic?, Simon & Schuster, 1987
"As soon s the New Silent Majority gets its political act together, watch out. Mark Satin, editor of New Options, a Washington, D.C.-based newsletter, calls it a 'post-liberal Third Force,' a massive group of voters defined by its fiscal conservatism and distrust of bloated federal government, but also by steadfast environmentalism and 'globally responsible' opposition to the arms buildup."
– Richard Louv, "A New Kind of Political Force Is Coming of Age," San Diego Union, April 27, 1986
"Despite Satin's 'traditional American values,' he says it's difficult to open the ears of the masses. 'Most Americans have invested their lives in this kind of society,' he says. ... But Satin isn't reaching for the brick[bat] pile. He says he's content with New Options' pragmatic stance. 'I think it's a third path which alienated people can move to once they become bored with their own alienation.'":
– Jeff Rosenberg, "Mark's Ism," Washington City Paper, March 17-23, 1989
C. ON Specific Articles in the Newsletter
"Is your lawmaker part of Congress' 'visionary cadre'? A recently released scorecard [from New Options] ... highlights legislators who have 'proved themselves willing to help competent, practical idealists get their policy proposals into the Congressional mainstream.'" [See roman numeral II, Chapter 22 above for our article about our 1987-88 scorecard.– M.S.]
– D.M., "Visionary Cadre Eyes the Future," Not Man Apart, newspaper of Friends of the Earth, July-August 1987
"Corporate executives trying to categorize the economic policies of newly serious Democratic presidential contender Gary Hart should note the interesting measurement produced by [New Options]. ... According to their just-issued ranking, Hart is one of only 16 Congressmen and Senators who has been consistently 'decentralist and globally responsible.'" [See roman numeral II, Chapter 22 above for our article about our 1987-88 Congressional scorecard.– M.S.]
– Kevin Phillips, Business & Public Affairs Fortnightly, periodical of American Political Research Corp., March 15, 1984
"In a recent theme issue of New Options, editor Mark Satin ... [resists] falling into the old trap of politics as a position on a linear spectrum. In reality, [he says,] the spectrum is circular and complex." [See Issue #24 above. – M.S.]
– Marilyn Ferguson, "Putting Together Terrorist Puzzle," Brain/Mind Bulletin, May 5, 1986
"New Options newsletter has given us cause for hope. During the [1988 Presidential] campaign, New Options' readers were invited to submit names [for] a 'People's Cabinet.' [Among the cabinet members chosen were Hazel Henderson (Treasury), Jane Jacobs (Housing and Urban Development), and David Brower (Interior).] ... New Options notes with pleasure that nearly half of [the 25 most frequently nominated individuals were] women and / or racial 'minorities.'"' [See Issue #53 above. – M.S.]
– Unnamed author, "What If We Really Had Government 'By the People'?," Earth Island Journal, magazine of the Earth Island Institute, winter 1988
"Were the '80s as bad as some people think? At least one social interpreter, Mark Satin, the iconoclastic editor of the political newsletter New Options, says no. 'I giess I'm not sophisticated enouh to see things correctly,' he wrote early this year with self-conscious irony. ... Satin maintains that a new cultural archetype emerged during the '80s, 'the caring individual,' or one who is equally committed to self-develoopment and social change." [See Issue #64 above. – M.S.]
– Deborah Baldwin, "Creating Community," Common Cause Magazine, publication of Common Cause, July-August 1990
"Satin['s] unique New Options newsletter ... seeks a decentralist, ecological, and globally responsible society beyond economic growth, the welfare state, and being the world's policeman. [Articles] include ... [one on] the 1990 Green Gathering in Colorado, which bluntly states that 'what I saw shook my confidence in the U.S. Greens as a credible, competent vehicle for change.'" [See Issue #70 above. – M.S.]
– Michael Marien, Future Survey, publication of the World Future Society, July 1991
"Over the years, Satin has unabashedly challenged tired thinking on any part of the political spectrum – particularly the liberal-left shibboleths that many New Options readers may have held dear. For example, while Satin enthusiastically covered and participated in Green politics, he also took the Greens to task when necessary. ... [And he] has not been hesitant to infuse political issues with what many activists consider 'soft,' peripheral concerns about love, sex, and relationships." [See especially Issue #71 above. – M.S.]
– Helen Cordes, "New Options: Requiem Eterna," Utne Reader, May-June 1992
D. Assessments
"UItne Reader ... and New Options newsletter ... – factual, skeptical, hopeful, anything but flaky – are our generation's most characteristic creations right nowe, ad the networks through which we talk to one another."
– Annie Gottlieb, Do You Believe in Magic?, Simon & Schuster, 1987
"[F]or those looking for a 'new liberalism,' for progressive social, political, and economic thought untainted by cliche, I would suggest New Options, ... an exciting digest of the practical and the visionary."
– Bill Schulz, "Reflections from the President of the UUA," Unitarian Universalist WORLD, publication of Unitarian Universalists of America, November 15, 1986
"New Options ... is the best source I know of for news on what is happening among those who are putting decentralist / globally responsible politics into practice."
– Robert Gilman, In Context: A Quarterly of Humane Sustainable Culture, summer 1984
"Allow me to ... pay a compliment to New Options – it is a provocative and questing publication, seeking answers and questions far beyond the moribund ideas of both the left and the right. It gives meaning and credibility to the concept of 'post-liberal.' ... It rocks the boat, it kicks sacred cows, it's not stuffed in any pigeonhole. And it will make you think."
– Dave Foreman, "Around the Campfire," Earth First! Journal, periodical of Earth First!, May 1, 1987
"New Options, though hardly a women's spirituality publication, deserves recognition. ... It includes lively letters between readers, reinterprets topics ranging from sustainable agriculture to terrorism to ecological business principles, and looks constructively yet critically at social change groups and political books. In essence, it's a refreshing voice of future vision and current realities."
– Patrice Wynne, The Womanspirit Sourcebook, Harper & Row, 1988
"New Options newsletter ... is often tough on the left and the peace movement to the point of unfairness. Yet the diligence of [Satin's] coverage of current books, conferences, innovative ideas, and social change efforts conveys a message of hope and caring; and few if any publications pack so much fascinating information into so brief and easily readable a format. Satin's frankly evaluative reporting also soparks a lively letters column."
– Robert A. Irwin, Building a Peace System, ExPro Press, 1991
"Running through New Options is a commitment to fairness – looking at the whole picture on an issue and valuing the points of view of all innovative thinkers and activists. ... By presenting differing points of view on a practical issue and exploring the value in all, Mark is able to unearth the deeper questions. ... New Options povides real support and builds many bridges for all its subscribers."
– Linda Marks, Living With Vision, Knowledge Systems Inc., 1989
[ENCORE! – FIVE LETTERS, 1983 – 1992]
"Dear Mark – This is all I can do [$50 check enclosed – M.S.]. Sorry."
– unsolicited start-up donation from Carl Rogers (1902 – 1987), La Jolla CA; co-creator of humanistic psychology
"Dear Mark, I thought your article on The Eighties was fascinating, and I'm with you! ... A lot went on besides consumerism and Wall Street greed, and bravo to you for thoughtfully broadening the perspective. Sometimes I get a dismal feeling that all the magazines have one Group Mind or One Editor. You're an exception, and I'm a grateful reader."
– unsolicited letter from Jane Jacobs (1916 – 2006), Toronto, Canada; author of The Death and Life of Great American Cities
"Thank you for your very real ministry."
– unsolicited note to Mark Satin from M. Scott Peck (1936 – 2005), New Preston CT; author of The Road Less Traveled
"you can use my name as advisor you can excerpt any chapters you wish from any of my books. ... I own nothing."
– unsolicited note to Mark Satin from Abbie Hoffman (1936 – 1989), New Hope PA; co-creator of the Yippies; sent six months before his suicide
"Dear Marc Satin, my respect! How one brings an adventure to its end shows more of a man than how he starts and conducts it. New Options has been a kind of umbilical cord to creative U.S. politics for me and I am sad I and others have now lost this pithy sheet, but I ... want you to know I am grateful for these years."
– unsolicited letter from Ivan Illich (1926-2002), Cuernavaca, Mexico; author of Deschooling Society
[UTNE READER AWARD BANNER]

V. Board of 100 New Options Advisors

This was our Board in our last year, 1992. I've listed Board members exactly as they were listed on our stationery that year – only the numbers have been added.

Most Board members gave me information, story leads, socio-political wisdom, writerly advice, or personal counsel –occasionally all five!

1. Patricia Aburdene, Author, Re-inventing the Corporation

2. Margot Adler, Author, Drawing Down the Moon

3. David Albert / Ellen Sawislak, Co-founder / Editor, New Society Publications

4. Lynn Anderson, Trustee, American Holistic Medical Association

5. Walter Truett Anderson, Co-author, Rethinking Liberalism

6. Thomas Berry, Author, The Dream of the Earth

7. Clement Bezold, Director, Institute for Alternative Futures

8. James and Grace Lee Boggs, Co-founders, National Organization for an American Revolution

9. Lester Brown, President, Worldwatch Institute

10. Ernest Callenbach, Author, Ecotopia

11. Jack Canfield / Georgia Noble, Co-presidents, Self-Esteem Seminars

12. Fritjof Capra, Author, The Turning Point

13. Michael Castleman, Author, Crime Free

14. Annie Cheatham, Co-author, Women's Values and the Future

15. Michael Closson, Director, Center for Economic Conversion

16. Harriett Crosby, President, Institute for Soviet-American Relations

17. Herman Daly, Author, Steady-State Economics

18. Daniel Deudney, Author, Whole Earth Security

19. Dee Dickinson, President, New Horizons for Learning

20. Arthur Egendorf, Author, Healing from the War

21. Duane Elgin, Author, Voluntary Simplicity

22. Shelley Elkayam, Co-founder, The East for Peace (Israel)

23. Margaret and William Ellis, Directors, Transnational Network for Appropriate Technology

24. James Fallows, Author, National Defense

25. Marilyn Ferguson, Author, The Aquarian Conspiracy

6. John E. Fobes, Council member, International Club of Rome

27. Dave Foreman, Co-founder, Earth First!

28. Paul Freundlich / Dee Hamler, Founder / Catalog Director, Co-op America [now Green America]

29. Annie Gottlieb, Author, The Second Coming of the Sixties Generation

30. Elizabeth Dodson Gray, Co-founder, Bolton Institute for the Study of the Future

31. Joan Gussow, Board of Directors, Human Economy Center

32. David Haenke, Coordinator, The Bioregional Project

33. Robert Hamrin, Author, America's New Economy

34. Vincent Harding, Author, There Is a River [and former MLK, Jr. speechwriter – M.S.]

35. Willis Harman, Author, Global Mind Change

36. San Harris / Dorsey Lawson, Director / Assistant Director, R.E.S.U.L.T.S.

37. Denis Hayes / Tina Hobson, President / Director, Fund for Renewable Energy

38. Doug and Steve Hellinger, Co-directors, The Development Gap

39. Hazel Henderson, Author, The Politics of the Solar Age

40. Barbara Marx Hubbard, Board of Directors, World Future Society

41. Dana and Wes Jackson, Co-directors, The Land Institute

42. Jane Jacobs, Author, The Death and Life of Great American Cities

43. Warren Johnson, Author, Muddling Toward Frugality

44. Petra Kelly, Spokesperson, Green Party - West Germany

45. David Korten, Co-author, People-Centered Development

46. Rajni Kothari, Co-chair, International Foundation for Development Alternatives (India)

47. Winona LaDuke, Native American activist and writer

48. Frances Moore Lappe, Author, Rediscovering America's Values

49. Eleanor LeCain, Director, Blueprint 2000

50. Betsy Lehrfeld and James Turner, Direcors, Institute for Science, Law, and Public Policy

51. Donald Lesh, Director, Global Tomorrow Coalition

52. Jessica Lipnack / Jeff Stamps, Co-directors, The Networking Institute

53. Richard Louv, Author, America II

54. Hunter and Amory Lovins, Renewable energy policy consultants

55. Mark Lutz, Co-author, The Challenge of Humanistic Economics

56. Edgard Macias, Spokesperson, Central American "Third Force"

57. Joanna Macy, Co-author, Thinking Like a Mountain

58. Jane Mansbridge, Author, Beyond Adversary Democracy

59. Michael Marien, Editor, Future Survey

60. John Marks / Bonnie Pearlman, Director / Manager, Search for Common Ground

61. John McClaughry, Former Senior Policy Advisor, Reagan Administration

62. Susan Meeker-Lowry, Co-director, Center for Gaian Economics

63. Saul Mendlovitz, Co-director, World Order Models Project

64. Patricia Mische, Co-director, Global Education Associates

65. Terry Mollner, President, Trusteeship Institute

66. Jane Morgan, President, Community Service Inc.

67. Robin Morgan, Co-author, Sisterhood Is Global

68. Magaly Rodriguez Mossman, Community organizer ("all-win" strategy)

69. John Naisbitt, Author, Megatrends

70. Ingrid Newkirk / Alex Pacheco, Directors, People for the Ethical Treatment of Animals

71. James Ogilvy, Co-author, Seven Tomorrows

72. Fran Peavey, Author, Heart Politics

73. Michael Phillips, Author, Honest Business

74. Gifford Pinchot III, Author, Intrapreneuring

75. Elsa Porter, Assistant Secretary of Commerce, Carter Administration

76. Jeremy Rifkin, Author, Who Should Play God?

77. James Robertson, Author, Future Work

78. Robert Rodale, Founder, Regeneration Project

79. Theodore Roszak, Author, Person/Planet

80. Joyce Rothschild, Co-author, The Cooperative Workplace

81. Rustum Roy, Chair, National Association for Science, Technology, and Society

82. Mark Rudd, Leader, 1968 Columbia student revolt [and a leader of the Weather Underground – M.S.]

83. Abdul Aziz Said, Chair, Center for Cooperative Global Development

84. Kirkpatrick Sale, Author, Human Scale

85. George Sessions, Co-author, Deep Ecology

86. Joan Shapiro, Board of Directors, Social Investment Forum

87. Michael Shuman, President, Center for Innovative Diplomacy

88. David Pearce Snyder, Author, The Family in Postindustrial America

89. Mark Sommer, Co-author, Beyond the Bomb

90. David Spangler, Author, Revelation: The Birth of a New Age

91. Charlene Spretnak, Co-author, Green Politics

92. Starkawk, Author, Truth or Dare

93. Thomas B. Stoel, Jr., Co-founder, Natural Resources Defense Council

94. Robert Swann / Susan Witt, President / Secretary, E. F. Schumacher Society

95. Peggy Taylor, Co-founder, New Age Journal

96. Robert Theobald, Author, The Rapids of Change

97. Nancy Jack Todd, Co-founder, New Alchemy Institute

98. Eric Utne, Editor / Publisher, Utne Reader

99. Michaela Walsh, President, Women's World Banking

100. Harvey Wasserman, Author, America Born and Reborn

VI. NEW OPTIONS'S LONGEST-SERVING PART-TIME PAID EMPLOYEES (OR, WHY NEW OPTIONS REALLY SUCCEEDED)

All these photos are from the time they worked at New Options The bios give their work histories after they left. The bios do not extend beyond 2002, ten years after the newsletter stopped publishing. Nobody pictured below is responsible for any of this – M.S.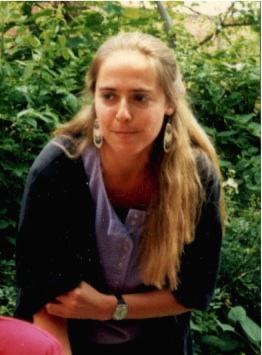 Sylvia Tognetti (1984 – 1986). After working for a variety of idealistic organizations, Sylvia earned a graduate degree in geography and launched a career as an independent environmental science and policy consultant, specializing in the comparative analysis of initiatives to protect environmental services. By the 2000s some of Washington D.C.'s most influential environmental and global-development groups had become her clients.
Shelley Alpern (1986 – 1987). Shelley eventually became Vice President and Director of Social Research and Advocacy at Trillium Asset Management Corp. – which is to say, one of the leading shareholder activists in the U.S. She was named by Fortune magazine as one of the 25 most powerful lesbians and gay men in American business for 2002.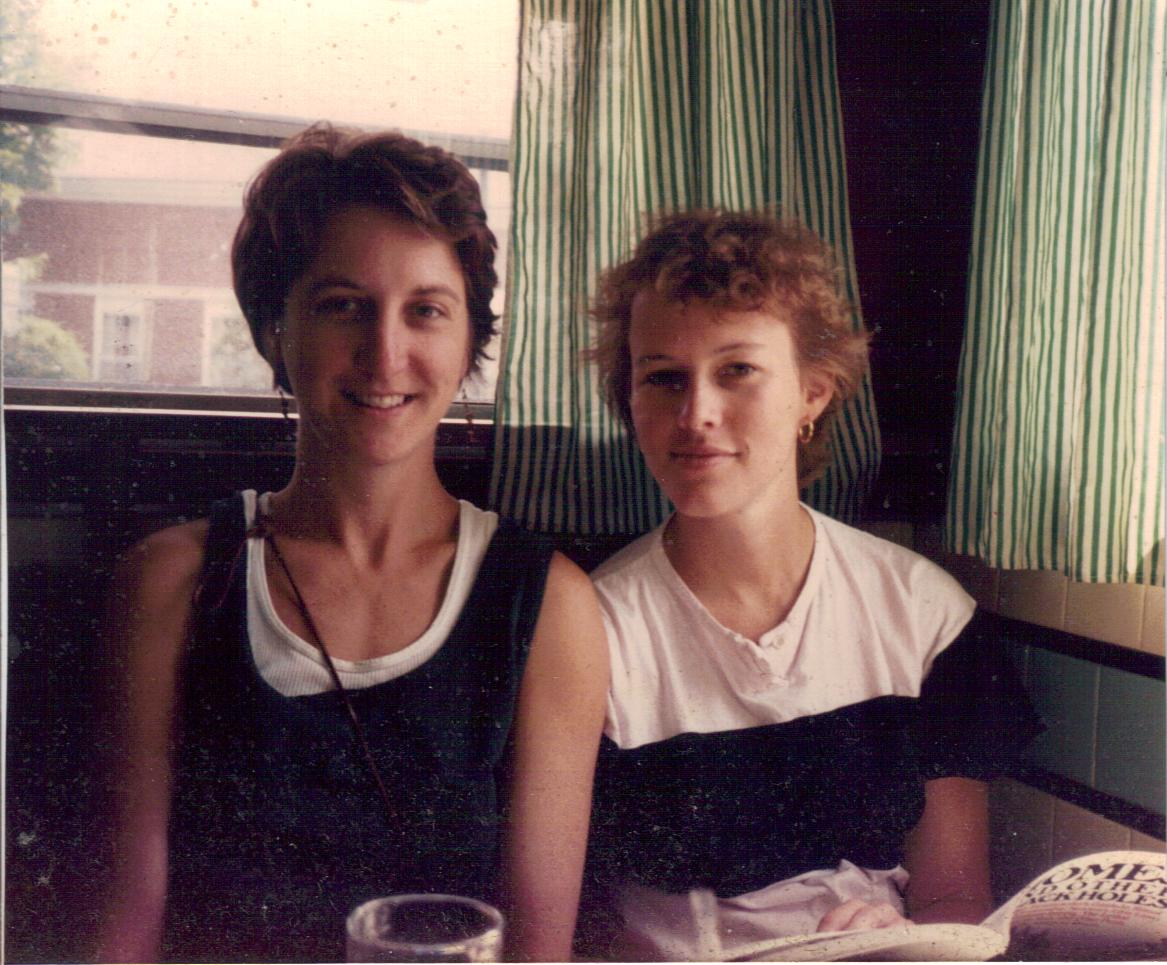 Judith Leckrone, left, and Mary Coleman Ragsdale (1987 – 1989). Judith eventually became Program Manager and Project Director at the U.S. Environmental Protection Agency office in Seattle. M. C. became an attorney (UVA Law, 1995) and joined Sidley Austin, one of the world's largest law firms, where she specialized in health-care and environmental law.
Sherri Schultz (1989 – 1990). After doing editorial work for a variety of Washington, D.C. entities, Sherri went on to co-found and help run the Northwest Independent Editors Guild, a nonprofit association of more than 200 editors that became the Pacific Northwest's premier editorial resource. By the year 2002 she had personally edited or co-edited over 100 published books.
VII. FOR MORE INFORMATION
For the Wikipedia biography of Satin, now a "Featured Article" there, go HERE.
For Satin's Amazon Author Page linking to all six of his books, go HERE.
If you'd like to do original research on New Options newsletter, or on post-socialist political movements generally, the Contemporary Culture Collection, at Temple University library in Philadelphia, holds the New World Alliance / New Options Correspondence Files. Within it are literally thousands of letters to New Options, most of them unpublished or published only in part. For years Satin's office assistants used to joke that he should "save this one for the historians!" Thanks to the good people at Temple U., they are now saved - and they may be the best single record we have of what post-liberal / post-socialist activists were thinking and feeling during the Reagan and Bush I years.
In addition, the Joseph A. Labadie Collection, at the University of Michigan's Hatcher Library, houses the Mark Satin Papers, and among them you can find an entire section devoted to New Options. There are sub-sections consisting of 50 documents Satin generated to promote the newsletter, 100 personal letters to and from Satin from 1983 – 1992, and Satin's personal memoir of his New Options years.
Satin keeps a copy of the Labadie Collection's Mark Satin Papers in his personal possession in Oakland, CA. If you would like to access them there, write him at msatin (at) mindspring (dot) com. Please be brief, use 14-point type (because of his eye condition), and put "Research" in the subject line.