ABOUT THE NEWS- LETTER
ARCHIVES:
Access All Mark Satin Articles, 2005- 2009
Access All Mark Satin Articles, 1999- 2004
Access John Avlon Archive, 2004-2006
RADICAL MIDDLE, THE BOOK:
OUR CONGRES- SIONAL SCORECARDS:
109th and 110th Congresses (2005-08)
OUR POLITICAL BOOK AWARD WINNERS:
RESPONSES FROM OTHERS:
Feisty E-mails to the Editor, 2008 - 2009
Feisty E-mails to the Editor, 2007
Feisty E-mails to the Editor, 2006
Feisty E-mails to the Editor, 2005
Feisty Letters to the Editor, 2002-04
Feisty Letters to the Editor, 1999-2001
WHO WE ARE:
About the Editor (In-House Version)
About the Editor (By Marilyn Ferguson)
About Our Sponsor, the Center for Visionary Law
Issue No. 61-a (January 1, 2005) -- Mark Satin, Editor
Critique of
pure blogging
One of the most popular pages on this Website now is Great Radical Middle Political Weblogs. And no wonder: More and more people are proudly, even arrogantly, telling me they get their information about the world from political blogs.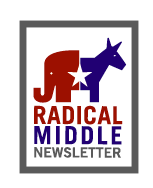 I've got to admit, I feel queasy about that. What political bloggers are championing as a Powerful & Democratic New Form of Communications could turn out to be an enjoyable but ultimately disempowering diversion for most of the rest of us.
Here are my main concerns . . . expressed in the form of three paragraphs of fatherly / teacherly advice (the line between "radical middle" and the verb "to parent" is ever a thin one):
-- You're doing yourself no favor if you log onto news-oriented blogs before first looking at a great and more or less objective daily newspaper. If you want to develop your own authentic point of view, then it's important for you to reach your own tentative conclusions about a day's events -- and have an independent source of facts to draw upon -- before exposing yourself to bloggers' seductive "wisdom." This country is blessed to have four great daily newspapers, and three of them are free online: The Washington Post, The New York Times, and The Christian Science Monitor. The magnificent BBC News World Edition is also free online.

-- You're fooling yourself if you think political blogs are even remotely as informative or deep as good political books. Nothing personal against bloggers -- some of our best political and metapolitical books are in fact by bloggers.) But blogs are inevitably cutting into our book reading time. The number of words we read on blogs each year would probably shock us. Andrew Sullivan posted over 500,000 words to his blog in 2004. That's the equivalent of 10 books!

-- You're selling yourself short if you spend quality time on political blogs and haven't yet mastered (a) a good book on public policy processes and substantive policy issues (I recommend B. Guy Peters's comprehensive and deliciously wry text American Public Policy: Promise and Performance), and (b) a good book on how to make solid, logical arguments, and how to recognize sham arguments (I recommend Williams & Colomb's wise and wonderfully hands-on text The Craft of Argument). If you hang out in the Blogosphere without at least that background, you could end up sounding a lot smarter and more sophisticated . . . to yourself and some others . . . than you really are. (Of course, you wouldn't be the first to fit that description.)
Political blogs can stretch our minds, stimulate our imaginations -- that's why we've listed some of the best of them HERE. But if you want to be truly well-informed, then they're no substitute for reading great newspapers and books, or for mastering the essentials of public policy, or for adhering to the rules of logical argument. To the extent blogs become that substitute, they become an enemy of the truly informed and empowered society bloggers claim to want to see.
ABOUT THE RADICAL MIDDLE CONCEPT
50 Thinkers and Activists DESCRIBE the Radical Middle
50 Best Radical Middle BOOKS of the '00s
GREAT RADICAL MIDDLE GROUPS AND BLOGS:
100 Great Radical Centrist GROUPS and Organizations
25 Great Radical Centrist BLOGS
SOME PRIOR RADICAL MIDDLE INITIATIVES:
Generational Equity and Communitarian platforms 1990s
First U.S. Green Party gatherings, 1987 - 1990
Green Party's "Ten Key Values" statement, 1984
New World Alliance, 1979 - 1983
PDF of the Alliance's "Transformation Platform," 1981
SOME RADICAL MIDDLE LESSONS:
What the Draft Resistance Movement Taught Me
What the Civil Rights Movement Taught Me
SOME PRIOR WRITINGS BY MARK SATIN:
New Options Newsletter, 1984-1992 (includes back issue PDFs!)
New Age Politics: Healing Self and Society, 1976, 1978 (includes 1976 text PDF!)
OTHER
PRIOR RADICAL MIDDLE TEXTS:
50 Best "Third Way" Books of the 1990s
25 Best "Transformational" Books of the 1980s
25 Best "New Age Politics" Books of the 1970s
NOT JUST RADICAL MIDDLE:
50 Current Political IDEOLOGIES
50 Current Political MANIFESTOS