ABOUT THE NEWS- LETTER
ARCHIVES:
Access All Mark Satin Articles, 2005- 2009
Access All Mark Satin Articles, 1999- 2004
Access John Avlon Archive, 2004-2006
RADICAL MIDDLE, THE BOOK:
OUR CONGRES- SIONAL SCORECARDS:
109th and 110th Congresses (2005-08)
OUR POLITICAL BOOK AWARD WINNERS:
RESPONSES FROM OTHERS:
Feisty E-mails to the Editor, 2008 - 2009
Feisty E-mails to the Editor, 2007
Feisty E-mails to the Editor, 2006
Feisty E-mails to the Editor, 2005
Feisty Letters to the Editor, 2002-04
Feisty Letters to the Editor, 1999-2001
WHO WE ARE:
About the Editor (In-House Version)
About the Editor (By Marilyn Ferguson)
About Our Sponsor, the Center for Visionary Law
Issue No. 9 (November 1999) -- Mark Satin, Editor
National Historic Preservation conference:
The smart-growthers and the elephants
I knew the National Trust for Historic Preservation would be meeting October 19-24, but oh my God, did I really want to go?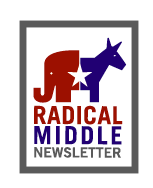 Yes, I knew it would be the Trust's special 50th anniversary conference, with over 2,500 registrants -- and, yes, I knew the Trust had clout (270,000 members, 300 employees, annual budget of $40 mill) -- and, no, I wasn't immune to the pleasures of hanging out with a press pass for five days at the sumptuous Mayflower Hotel in Washington, D.C., the conference site.
But I was convinced the conference would be hopelessly, paralyzingly boring! Whenever I thought of preservationists I thought of professional antiquarians . . . architectural historians . . . septuagenarian rich people angling to preserve dead rich people's houses with taxpayers' money. . . .
So before deciding to go I got hold of Richard Moe's book Changing Places: Rebuilding Community in an Age of Sprawl (1997). Moe, you may recall, was Walter Mondale's longtime chief of staff and confidante. He disappeared back into the legal profession after the Carter-Mondale debacle of 1980, then returned to public life by assuming the presidency of the Trust in 1993. Changing Places is his opus, and I wanted to see if his approach to preservation went significantly beyond my caricature.
Well, I couldn't have been more pleased. The book is a passionate, even militant call to revive (not just preserve) Main Streets everywhere, "reinvent" downtowns, revitalize neighborhoods -- and draws much of its blow-by-blow detail from the Trust's own recent activities. I immediately called in for my press pass.
Preservation in a new key
And suddenly there I was, at the Trust's opening plenary, thousands of well-dressed, carefully coiffed people all around me -- architects, city planners, heads of local preservation committees, elected officials, community activists, development consultants -- Baby Boomers (mostly), pale skinned (mostly) -- but what struck me most was how gentle this crowd was, even sweet. I don't think I've ever been to a conference where so many people looked so thoughtful, or so many people un-self-consciously put their heads on their partners' shoulders. Not for these folks the neuroses born of too many ill-planned and underfunded civic campaigns. More often than not, their projects succeeded, and they carried themselves like winners.
Mrs. Robert E. Lee IV took the stage. God no!, I thought, and her remarks were priceless: "It is so important that we all work together. Our heritage and our legacy are -- just -- we have to keep all these older places going!" A couple of grinning politicians followed. Eventually Richard Moe came on to give the President's Report, and he went way beyond the others, way beyond even his book.
Fifty years ago, he said, preservationists fought the good fight to hold onto certain older buildings. Today, everybody sees rehabilitation as preferable to destruction. . . .
Fifty years ago, preservationists' concerns ended at the boundaries of the so-called older parts of town. Today preservationists take a much more holistic approach, recognizing that what happens in the suburbs and the countryside has a distinct bearing on what happens in our older neighborhoods. . . .
Moe smiled wanly, like a minister in an upper-class church. Thanks to preservationists, he said, Americans have undergone a fundamental change of heart in the way they value their heritage. But our job is by no means done, and three things are especially urgent:
First, we've got to broaden our membership and programs to reflect more accurately the true diversity of America. A simple look around at our gathering offers convincing proof that we do not reflect America. . . .
Second, we must intensify our efforts to manage sprawl and to promote policies and practices that foster smart growth and sustainable development. . . .
Finally, we must work hard to inculcate preservation as an ethic -- as a value -- that is understood and embraced by all Americans. I look forward to the day when all Americans will work to preserve the marvelous diversity of our heritage because it reflects the fullness of the American experience. . . .
Another wan smile. And vigorous applause.
Repackaging "slow growth"
The rest of the conference was chock-full of workshops, "working" breakfasts, and local tours. Most of the workshops were narrowly practical ("Legal Protection of Historic Religious Properties"), but there were always at least a couple of politically oriented workshops to attend, and the same buzzwords cropped up at them again and again -- "smart growth," "the New Urbanism," "sustainable development," "livable communities." Eventually I realized the Trust had become a premier organization for what activists in the Seventies and Eighties used to call "slow growth" or "no growth" approaches. As those activists moved up in the professions, they'd changed their slogans to make them more appealing to optimistic American ears.
In fact, probably the most inspiring aspect of the conference was seeing how different people had taken their youthful no-growth idealism and translated it into practical smart-growth solutions.
At one workshop, with the mundane title "Influencing Highway Design," Doug Rose spoke passionately of the need to involve all "stakeholders" (including concerned citizens) early and often in the highway planning process. I kept having to remind myself that Rose was no community activist -- he was Chief Engineer of the Maryland State Highway Administration.
Then Henry Rentz got up to talk about his "context-sensitive highway design" initiative, an immodest effort to induce state highway transportation officials to consider "scenic, historic, aesthetic and cultural values" in the planning process. He isn't a petitioner any more either -- he's Director of Infrastructure at the Federal Highway Administration.
I wandered into a workshop on the redevelopment of Dallas, and found myself listening to a confident man named Robert Shaw, President of Amicus Partners, Ltd., lecture a roomful of civic activists as follows:
If you want to get a good developer like us to come in to your community, here's what you've got to do. First, you've got to do the heavy lifting for me, you've got to bring together ALL the stakeholders. Second, y'all have got to come up with a shared vision of what you want your neighborhood to be. Third, it's gotta be a transitional neighborhood -- euphemism for poor or drug-ridden, you understand. (Lower costs.) Finally, there's gotta be an active public sector. (To deal with the infrastructure.) Get me these things and we can bring in the money to make neighborhood improvement possible, just like we've done in Phoenix, Austin, Denver. . . .
Even the workshop on Congressional approaches to promoting smart growth was relentlessly upbeat and can-do. Geoff Brown, lanky young legislative assistant to Senator Jeffords (R-Vt.), passed out a flier detailing 12 "Smart Growth Initiatives in the 106th Congress," meanwhile telling his SRO audience, "There's a small band of us on Capitol Hill who know what smart growth is. . . ."
How smart is smart growth?
Most workshops were content simply to assume the Trust's underlying vision of smart growth / sustainable development / New Urbanism. But some speakers tried to put flesh on the vision.
Roy Kienitz, of the Surface Transportation Policy Project, laughed when he tried: "We haven't even agreed on what it is," he explained. Then he offered an excellent first cut when he said it's about making both cities and suburbs "more compact."
It's a "set of principles," said Stephanie Bothwell of the American Institute of Architects' Center for Livable Communities. Among those she offered: "the community should have a center focus"; "within neighborhoods, a broad range of housing types and price levels [should] bring people of diverse ages, races, and incomes into daily interaction"; "the design of streets and buildings should reinforce safe environments, but not at the expense of accessibility and openness."
Roberta Gratz, author of Cities Back from the Edge (1998), spoke at the same panel as Bothwell and offered more principles: "tightly-spaced housing," "shopping within walking distance," "parks designed to promote chance meetings. . . ."
But it was Senator Chafee (R-R.I.), the keynote speaker, who may have captured smart growth best when he said the goal is to "entice people back into the cities."
Not everyone bought into the smart growth party line.
Geoff Brown, Jeffords's aide, wondered out loud how even the best city planners could get families to live downtown if the schools were no good. Gratz raised other troubling issues: Many preservationists appear to have an unhealthy "urge to control" every jot and tittle of their communities. Many New Urbanist designs are "too prettified," "too perfect," too 19th-century. (An exhibit called "Reimagining the Suburbs: Smart Growth and Choices for Change" was held at the National Building Museum in conjunction with the conference, and after seeing it I found myself agreeing with Gratz. I don't want to live in towns that look just as stylized, just as outmoded, and just as devoid of American entrepreneurial energy, as tourist villages in the south of France.)
Two loud elephants
A pair of unacknowledged elephants materialized and went galumphing around the Mayflower every time a smart growth advocate began waxing philosophical about restoring the old neighborhoods. One was called Crime, the other was called Race.
I couldn't believe it. The conference registrants appeared to be self-confident, well-connected, well-fed. . . . Why didn't they acknowledge the 4,000-pound creatures in their midst? Finally, toward the end of the fourth day, a moderator called for questions after the Bothwell / Gratz panel and a tall black "urban activist" stepped up to the mike.
JUST HOW DO YOU PROPOSE TO INTEGRATE US INTO YOUR BEAUTIFUL VISION?, he demanded.
Gratz went round and round in a high-intellectual mode. It was as if she didn't really comprehend the question.
HOW ABOUT EDUCATING US?, he cried. HOW ABOUT MAKING US ECONOMICALLY COMPETITIVE WITH YOUR SONS AND DAUGHTERS? IT'S AS SIMPLE AS THAT.
I suspect there weren't 30 people in that room -- out of 300 -- who thought the schools could do much until black kids at risk (a) learned impulse control at home, and (b) got over their aversion to "acting white." But nobody dared say those things. Instead, women adopted facial expressions of sympathy and concern, and men flapped their legs or gripped the sides of their chairs.
ONE OF THE PAYOFFS FOR INVESTING IN SCHOOLS IS THAT AFRO-AMERICAN MALES WON'T SNATCH YOUR POCKETBOOKS! SO HOW ABOUT EDUCATING US? THEN YOU WON'T BE AFRAID OF US. . . .
Finally he stopped, and the audience clapped in appreciation of his contribution, then let out a collective sigh of relief. But later a black woman came to the microphone, and she'd been offended by something Gratz had said. Did Gratz really mean that people who don't mow their lawns are bad neighbors? She doesn't always mow her lawn -- but that's because she's a single mother with a very full plate! Surely that doesn't make her a bad neighbor?
No, no, no, definitely not, said Gratz and many members of the audience.
Finally the session was over, and the audience was free to contemplate its vision, again, of an America that would be wonderful because its metropolitan areas would be designed to discourage suburbanization.
Some quiet elephants
That night, conference-goers might have noticed an article in USA Today about Frank Gehry, the architect from California whose innovative buildings are attracting millions of visitors a year all over the world -- an architect spoken of with contempt in the current issue of the Trust's magazine Preservation (for being obsessively "original"), but whose huge, exciting, dreamlike forms of steel and titanium -- made possible only because of modern computer technology -- speak to something deep in the modern spirit. . . .
They might have noticed a pullout section in the Washington Post called "It's a Mall World," a celebration of the convenience, sophistication, and sheer giddy energy of the 30 most popular malls in the Washington metropolitan area. . . .
Or they might have noticed a new book in the bookstore by MIT architect William Mitchell called E-Topia, which discusses what telecommunications and cyberspace are expected to do (are already doing) to our settlement patterns -- radically decentralize everything. . . .
Or they might have picked up an article by Walter Truett Anderson in Futures 31, arguing that "virtual communities" are becoming at least as important to most of us as geographic communities. . . .
They might have noticed these quiet elephants, but I suspect they paid them no heed. Their minds were made up, they knew they wanted our cities and suburbs to be as much like Winesburg, Ohio, circa 1920, as possible.
And the next day they filed into the Metropolitan A.M.E. Church (so gritty! so "urban"!) for the closing plenary, where NPR and PBS commentator Ray Suarez ripped into them for leaving the big cities behind. He even used the r-word, albeit delicately and indirectly.
The women looked sympathetic. The men flapped their legs. None of them shouted out that they'd NEVER send their kids to mediocre, disorderly, drug-riddled schools on behalf of some New Urbanist vision. They were too "good" and too gentle to make a scene.
After Suarez's speech they began heading back to the four corners of the U.S.A., where they'd be free to dream their dreams without worrying overmuch about complicating factors like race or crime, or the astonishing options created by communications technology, or the lifestyle preferences of most Americans.
National Trust for Historic Preservation: 1785 Massachusetts Ave. N.W., Washington DC 20036, www.nationaltrust.org.
ABOUT THE RADICAL MIDDLE CONCEPT
50 Thinkers and Activists DESCRIBE the Radical Middle
50 Best Radical Middle BOOKS of the '00s
GREAT RADICAL MIDDLE GROUPS AND BLOGS:
100 Great Radical Centrist GROUPS and Organizations
25 Great Radical Centrist BLOGS
SOME PRIOR RADICAL MIDDLE INITIATIVES:
Generational Equity and Communitarian platforms 1990s
First U.S. Green Party gatherings, 1987 - 1990
Green Party's "Ten Key Values" statement, 1984
New World Alliance, 1979 - 1983
PDF of the Alliance's "Transformation Platform," 1981
SOME RADICAL MIDDLE LESSONS:
What the Draft Resistance Movement Taught Me
What the Civil Rights Movement Taught Me
SOME PRIOR WRITINGS BY MARK SATIN:
New Options Newsletter, 1984-1992 (includes back issue PDFs!)
New Age Politics: Healing Self and Society, 1976, 1978 (includes 1976 text PDF!)
OTHER
PRIOR RADICAL MIDDLE TEXTS:
50 Best "Third Way" Books of the 1990s
25 Best "Transformational" Books of the 1980s
25 Best "New Age Politics" Books of the 1970s
NOT JUST RADICAL MIDDLE:
50 Current Political IDEOLOGIES
50 Current Political MANIFESTOS